The Secret Lives of Lawfully Wedded Wives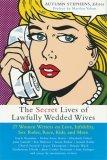 More than just an anthology of essays about marriage, The Secret Lives of Lawfully Wedded Wives is a collection of unique perspectives on committed relationships and the human condition - more specifically, the female condition. Complied by Autumn Stevens, a seasoned editor, the book covers topics from infidelity to adoption and cross-cultural marriages to same sex relationships so it's sure to contain something everyone can relate to.
Keeping in mind that "this book is not for the faint-hearted," as was so eloquently stated in the preface by Marilyn Yalom, it's easy to get lost in the pages. The essays were written by women, the book was edited by a woman, and it is targeted toward women because, honestly, who knows women better than women?
The Secret Lives of Lawfully Wedded Wives touches on humor, sorrow and everything in between, and I found myself forced to take a step back and examine my own relationships as well as my personal role in society. I feel empowered having done that, and, most of all, I feel accepted knowing that other women experience the things that I experience. The essayists paint a very realistic picture of what it means to be a woman both independently and in relationships by examining real-life situations; their problems, my problems, and your problems in a new and refreshing light.