Selenidad: Selena, Latinos and the Performance of Memory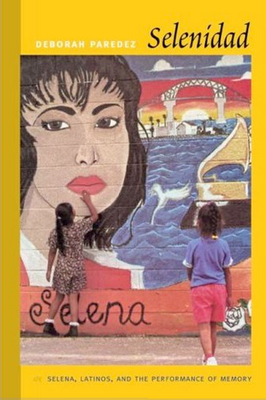 "This is not a book about Selena, but about what it means to remember her," explains the author in the opening statement of her book. Remembering Selena is a remedy that releases the emotions of her grieving family, her fans, and those who became engaged in her music only after discovering the impact that she had on Latino communities.
Selena, a pop diva from Corpus Christi Texas, was murdered by her fan club president, Yolanda Saldívar on March 31, 1995. Instantly, Selena became a posthumous icon—a symbol—the object of adoration by many. Selena's museum was erected in her honour in Corpus Christi, and Selena's monument graces the downtown area of her native city. Selena: A Musical Celebration of her Life _(2001), the film _Selena (1997) with Jennifer López, and even A Conversation with Academics about Selena that aired on television (1999) explore her life and how she changed the perception of Latino music. In 2003, Selena Live - The Last Concert, which included her famous hit "Como la Flor" (Like the Flower), was released on DVD in her memory. It also served as a method for experiencing latinidad as an effective mode of belonging.
Who was Selena? Selena Quintanilla-Pérez, lead singer of Selena y Los Dinos started singing at the age of five. She was a U.S.-born Latina who grew up speaking English in a working class family that had lived in Texas for several generations. Her father, Abraham Quintanilla Jr. forced her to learn Spanish so she could further her career. Selena was voluptuous, had a Latina's features and exuded a sexual charisma on stage. Her famous glittering purple pantsuit hugging her hips was a signature of Selena's skill as a performer. She gained popularity through musical performances of a Tejano music that was often ignored by the mainstream and even by Latino communities. At the age of twenty-three, she was worth over five million dollars.
What does it mean to remember her? When she was murdered, Selena became the 'Tex-Mex Madonna' and the focus of collective suffering on both sides of the border. She also became the unquestioned queen of mestizo pop music. Many Americans invested emotionally, politically and financially in Selena's posthumous life as they had previously in the lives of Evita and Frida Kahlo. The films made about them attracted the attention of people all over the world.
Through remembering them, a Latin explosion or boom promoted the mourning of collective memories; it also capitalized on the cultural, economic, and political concept of latinidad _in the United States. Selena launched not only _latinidad, but also initiated the Latin music boom that emerged in the 1990s and created Latino mega-stars.
Deborah Paredez' study on Selena's posthumous importance is well written, engaging, and timely. She reveals the cultural, political, and economic dynamics of some commemorations of Selena. She further explores the reactions of Latinos and mainstream Americans after Selena's death. Selenidad enables—if only for a moment—a sense of belonging to communities of the living. A great and easy read coupled with a selection of interesting photographs.