Sew Subversive: Down and Dirty DIY for the Fabulous Fashionista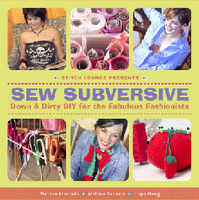 The subversive notion of sewing (no pun intended) in this book initially caught my eye; I was drawn into the concept sewing is no longer considered to be something only our grannies do, but something that would enable anyone to shout out, "We're are creative minds!" Sew Subversive is about sewing outside the box, tossing those patterns to the winds and creating your own statement. I shared this book with women both young and not so young; each one was energized by the book layout, ideas and the "coolness" of the ideas. There are reality checks from the authors reminding the reader that learning takes time and practice, that everyone messes up, and mistakes "are not a waste if you learn something from them."
Written by three women from the San Francisco area, who are owners of a business called Stitch Lounge, the book reflects the more modern perspective of how a sewing circle can provide the tools for creative expression. Stitch Lounge is a studio which offers time, machines, materials, fabrics, notions, and classes to those individuals looking for creative expression through sewing. Sometimes sewing is not even needed; the book offers three projects where thread is not a required material.
Sew Subversive opens with a solid introduction for beginners on sewing basics – such as how to pick fabric, material, and thread and basic hand stitching – then moves into sewing machine basics. The remainder of the text is dedicated to 22 projects. Each project comes with the material list, step-by-step instructions, and the time it should take to complete the project.
I took on one of the projects, transforming two old t-shirts to a tote bag. The step-by-step instructions were accurate and well organized. The authors' comic relief made the project fun rather than instructional. I finished the project within the estimated period and came out of the process with a bag that is not only very useful; it has proven to be a terrific conversation starter.