Sexism in America: Alive, Well, and Ruining Our Future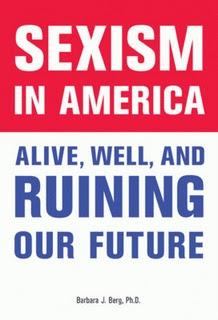 Barbara J. Berg and I have something in common—we both hate the term post-feminist. An omnipresent myth exists that ours is a post-feminist society in which women have achieved absolute parity with men economically, politically, and socially. Because of this, the myth states, there is no longer a need for a feminist movement, or feminist ideas, conversation, outrage, struggle, or participation in any national dialogue. Berg's book is an exhaustively researched screed that quite easily proves this to be patently untrue.
The first several chapters of Sexism in America detail women's struggles throughout the 1950s and 1960s, and the rise of second wave feminism. The ground lost in the Reagan years is covered extensively. Ronald Reagan often espoused the myth of the "welfare queen," slashed many social programs that benefited lower-income women and their families, and used rhetoric in his speeches connecting the pro-choice movement with infanticide, pornography, drugs, adultery, and teenage sex. The media (an ongoing problem for and frequent enemy of women's progress, as noted throughout the book) did its best in the Reagan era to push women out of the workplace and back into their homes. Magazines and newspapers often published unfounded articles with shoddy research and questionable sources indicating that women themselves were unhappy in their jobs; scare pieces about children growing up essentially motherless due to women being in the workplace were also _de rigueur. _
Women as a whole made much more progress under President Bill Clinton, and the double-edged sword of the media became more female-friendly as well, carving out niches for Buffy the Vampire Slayer and making room for the riot grrrl movement. The tragic election of George W. Bush, decided by a Supreme Court decision in 2000, proved disastrous for women over the eight years he held office, and a complicit and compliant media rolled over and reverted back to its prior winking and outright misogynist behaviors.
Where we previously had Buffy, we now had dating/courtship reality shows in which women humiliated themselves for a chance to marry a virtual stranger, as well as competitions like America's Next Top Model, Beauty and the Geek (hint: the titular "Geek" is not a woman), and _Pussycat Dolls Present: __The Search for the Next Doll._ Police procedural shows such as _CSI_, _Criminal Minds_, and _Killer Instinct_ compete with one another to see who can outdo whom in a battle of "Mutilated Dead Woman of the Week." Women are rarely if ever featured as leads in prominent Hollywood films without the movie being derided as a "chick flick." The Disney Princess brand is a billion-dollar industry, as is plastic surgery, since the "ideal" body image, weight, and shape to which women must aspire is a goal with ever-moving posts. We know more about women who are beautiful than women who are activists.
Sexism in America is an often infuriating book to read, and serves as a fantastic primer for young women and those either suspicious of or new to feminist ideas. Barbara J. Berg handily documents the last sixty years of American history to state her case that ours is most definitely not a post-feminist society, that women's voices are being drowned out in a chorus of media backlash and right-wing ire, and that there are still plenty of men who'd rather we be decorative objects rather than fully realized, actualized persons.