Splash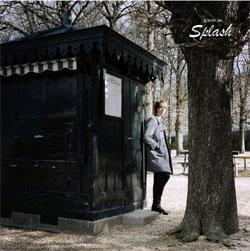 I spent a few years as a DJ for the college radio station during graduate school, and quickly learned that the fastest, most accurate way to asses if you'll like an album is to pay attention to the label. If you really dig a band, it's worth your time to research the label that produces their albums–chances are it will be home to other artists you'll enjoy. Such is the case for K Records, distributed by Secretly Canadian, and home to some of my favorites like anti-folk heroine Kimya Dawson, dance-pop loveliness The Blow, and low-fi folk rocker Jason Anderson.
It is easy to hear how pop-folk artist Jeremy Jay found a home at K, but if the aforementioned artists are seniors at the top of their class, Jay is a freshman with plenty of room for improvement jotted in his report card. Though Splash is Jay's third release on K, at just over twenty-five minutes, it plays more like a debut EP. One song is no more diverse or interesting than the last; I was in the middle of track three before I realized the album had played all the way through and was on its second rotation. The album's title conjures images of excitement and disruption that would be more fitting for an artist poised to make waves. But Jeremy Jay is not that artist.
Every song reflected the influence of another musician, but never did I get a feel for Jay's own unique voice or style. "Just Dial My Number" is an upbeat, summer ditty but the use of piano is so similar to Peter Bjorn and John's "Young Ones," that every time it played I thought I was hearing the latter. There are moments when he channels Morrissey; I even heard a little Tracy Chapman on "Someday Somewhere." But the most notable comparison is to Magnetic Fields front man, Stephin Merritt. But whereas Merritt's distinctive bass subtly demands you to pay attention to his lyrics, Jay's more delicate timbre only adds to the ambiguity of his songwriting.
While he certainly evokes the mood of agenda-free days of exploring the city, the lack of imagery and individuality leaves Splash too malleable to make an impression. It would serve well as a soundtrack to a film where visual images and plot might add some heft and dimension to his sound.