Stefani Handbag and Wallet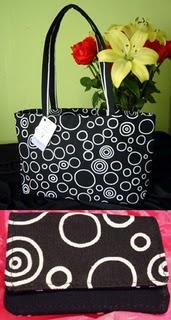 Though I'm not a girly girl, I still have more purses than chairs, and I can always find room for one more. That said, I am picky. My ideal purses and bags must be roomy but not bulky, funky but not too strange.
This mod-inspired canvas tote from ChicCosas (retail price $58) will go with any outfit and be appropriate for any occasion. It measures about 14"W x 10"H x 4"D - enough space for everything you shouldn't stash in a regular-sized purse, but want to anyway. The matching wallet is a nice addition.
Based in California, ChicCosas ("chic things" in Spanish) has a variety of artsy, high-quality items that are, unbelievably, all handmade. The caveat is that they're also reasonably priced. You'd expect to pay much more for such unique treasures. Owner Deborah Maciel has an obvious eye for design, color and durability. In addition to buying a fabulous product, you're supporting a small, woman-owned business.