Living with the Living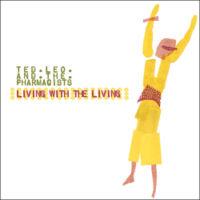 In a day where so many previously non-political artists are taking a stance to assure themselves a Grammy nod, Ted Leo's refreshingly authentic social commentary shines through in his music just as much as it has for the past decade. The strict vegan, along with his band The Pharmacists, released his fifth full length studio album, [Living with the Living](http://www.amazon.com/gp/product/B000MQ55DO?ie=UTF8&tag=feminrevie-20&linkCode=as2&camp=1789&creative=9325&creativeASIN=B000MQ55DO).
Produced by Fugazi drummer Brendan Canty, Living with the Living proves to be a Molotov cocktail of explosive blues-tinged punk mixed with light-hearted summer sounds and even reggae. The latest effort by the D.C.-based trio envelopes an instrumentally experimental complexity with a lyrical simplicity that combine for a well-rounded compilation of songs. The album's most memorable tracks are heavily stacked mid-album and surprisingly embody more of Leo's social views than his political agenda.
The endearing "A Bottle of Buckie" is a stand-out track that shows sometimes you need nothing more than a good friend and a bottle of cheap Buckfast wine. Leo comforts the listener with this laid back track only to black their eye with the next. The garage-metal antics of "Bomb. Repeat. Bomb." combine with both spoken word and chanting group vocals to create a track that is so politically fierce that you might be inclined to turn off Living with the Living and initiate change.