The Temptation of the Night Jasmine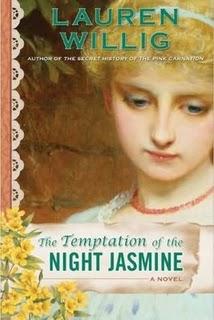 Lacking familiarity with Lauren Willig's Pink Carnation series did not detract from my enjoyment of The Temptation of the Night Jasmine, the fifth installment in the series. After reading praise of Willig's writing that compared her work to Pride and Prejudice, I expected a satisfying novel of romance in England of times past and I wasn't disappointed in that regard.
While this is not the kind of book that I typically gravitate to in my present incarnation, reading The Temptation of the Night Jasmine brought me back to the days of my youth when I could think of nothing better than to read a book that featured a sheltered, well-read heroine who finds herself falling in love with the errant knight with a heart of gold, but must first surmount some obstacles and ultimately determine whether the prize is worth her maidenhood.
Although the story was somewhat predictable in that its plot centers on a dashing duke who returns to his ducal estate from his adventures in India to claim his inheritance and start up a romance with his fetching distant cousin, there are some unexpected twists and turns in their courtship dance.
Unbeknownst to Charlotte, our heroine, Robert has come home for more mysterious reasons and Charlotte finds herself unwittingly drawn into Robert's web of intrigue. Without giving the plot away, this updated version of courtship in 1700's England features a heroine who is more than a match for her would be suitor, which is always a refreshing plot twist. The plot also features a hellfire club that dabbles in bacchanalian activities, which is not something one would typically find in a Jane Austen novel.
My only criticism of the novel is the switching back and forth in time between our narrator situated in modern day England who is conveniently conducting research on a historical novel centering around our lovelorn characters. While this may be a staple of the series, I found it somewhat annoying to switch back and forth between the past and the present. Willig's writing is more compelling and engaging when she writes about Robert and Charlotte than our present day narrator/researcher, who I did not find very likeable or interesting.
The author's familiarity with this literary genre and historical period of British history is evident down to the finer details of fashions and culture of the time period, which makes the book a more enjoyable read. If you're looking for a brief escape from stimulus plans and tarp bailouts, read this book while taking a long soak in the tub.