On Their Own: Women Journalists and the American Experience in Vietnam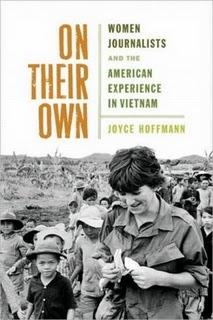 Joyce Hoffman read a book about journalists who reported on American involvement in Vietnam in the sixties and wondered to herself, "Where are the women?" Considering that she holds a Ph.D. in American Studies, a job teaching journalism to college students, and pens a biweekly op-ed column about journalism accuracy and fairness issues, it was not unlikely that she would write the book that would answer that question. On Their Own offers a thoroughly researched account of fifteen women who played vital, if varying, roles in the reporting of the Vietnam War.
For myself, when I studied the media industry in college, I became so disenchanted with the corporate system of information dissemination in the United States that instead of packing the tailored black suit in my closet upon graduation, I grabbed a rucksack and waited tables for awhile. But journalism still fascinates me, and for that reason, I wish that I had read this book in school. Many of these women simply bought a plane ticket and showed up in Saigon, determined to find their own stories. They believed that if they did their job well, they would be published by many of the male editors who told them they couldn't do it in the first place, as they indeed were.
As a pleasure read, On Their Own can be a bit dense with historical detail that sometimes stifles the narrative of each experience; however, this detail makes the book richer for any student of the history of journalism. I had a hard time getting started with it, but I soon realized that my difficulty was because the first 100 pages deal mainly with more socially conservative women who believed in the United State's right to be in Vietnam and felt that the people there needed to be Westernized for their own good - talented and outspoken reporters, but not women I wanted to spend much time with. Once I got into chapter three, I found stories that were not only adventurous, but personally inspiring.
Frankie Fitzgerald's story is one that any aspiring and socially conscious non-fiction writer should become acquainted with. Daughter of the CIA's director of operations, she spent years in Vietnam, on her own, writing with a sense of purpose. Convinced that the war was immoral and wrong, she won the Pulitzer Prize in 1972. "She once asked a Vietnamese associate what he thought would happen if the United States withdrew. He told her: 'Don't ask us that. It's none of your business. We just want you to leave.'"
Reporting on a war requires much more than death tolls and fire fight descriptions. Today, it seems obvious that different perspectives on the impact of war on societies engaged in it add invaluable relevance to that body of journalism. We are still faced with government influence and spin. The more people are reporting on events, the better we can understand them and use that knowledge to avoid mistakes in the future. Right?