Thicker Than Water: A Kit O'Malley Mystery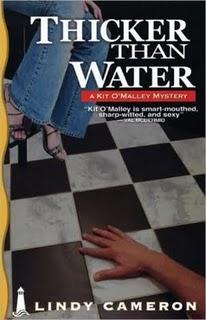 When I took creative writing classes in college, our professor always said, "Show, don't tell." Meaning, let the reader see the story without articulating every detail. Well, Lindy Cameron, author of Thicker Than Water, tells everything through wordy dialogue, detailed facial expressions, and exhaustive character descriptions. However, this same professor also said, "Don't judge if you didn't do it." Since I have never published a novel, much less a successful mystery series, I delved further into the book to see if I could get hooked. I mean, isn't the point of a mystery novel to sit long into the night under a reading lamp failing to make good on that promise to yourself that you'll stop at the next chapter?
Thicker Than Water is the third book in Cameron's series about private detective Kit O'Malley. If The L Word and CSI (any variation of the show works here) had a love child, it would be the Kit O'Malley series. The opening scene has the requisite needlessly gory corpse in an improbably interesting location. Hence the mystery!
Why would anyone dump a male crime syndicate family member in a women's bar? And who is trying to tarnish the reputation of Melbourne's lesbian community? No one, not even crime family matriarch Queenie O'Reilly, will take down this tight-knit group of ladies if O'Malley has anything to say about it. One thing is for sure, O'Malley is superior to any ex-stripper, ex-alcoholic, closet-genius female lead CBS could dream up.
Kit O'Malley is an honest, often reckless, and sassy Nancy Drew. On one hand I want to resist her ubiquitously witty dialogue, but then I think back to my childhood obsession with the strawberry blonde teen sleuth. I didn't love Secret of the Old Clock because it was realistic or intellectual; I loved it because I was drawn in, and believed that I, just like Nancy, could figure anything out.
Sure, you have all the typical mystery elements: crime family, Romeo and Juliet-esque romance, ex-cop, crooked cop, righteous cop, sex, nightclubs, and a serial killer. (I know it sounds like a lot, but this book has 415 dense pages.) There are also a lot of names that, when augmented by Kit's tendency to call people by varying nicknames, can get confusing. However, if you follow Kit around, you too will be dying to know who Scooter is sleeping with, and why she fled the scene of the crime.
Finally, for all of us non-Aussies, this book is a crash course Australian English. Sure, I knew bugger off, bum, and bloke, but arvo? (It means afternoon.) Cameron paints a very inviting picture of Melbourne, crime syndicates and all. Kit O'Malley could inspire Australia-philes all over the world.
To return to my original question: was I hooked? I would hire Kit O'Malley anytime. Case closed.