Through the Storm: A Real Story of Fame and Family in a Tabloid World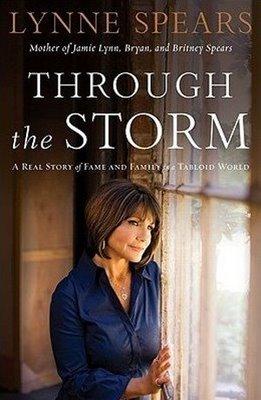 When the news first hit that Lynne Spears, mother of Britney & Jamie Lynn Spears, was planning on writing a book, everyone seemed to have an opinion. Rumor had it that she was writing a book of parenting advice. Everyone scoffed. Parenting advice from a woman with a pregnant 16-year-old and a pop star whose fall from grace was playing out in the tabloids day by day? Yeah, right. Given the media storm going on around her daughters at that time of the books planned publishing date (remember Britney's hospitalizations? The vagina-flashing? The shaved head?), the book was postponed and released quietly a few months later.
As usual, the rumors were wrong. In reality, the book turned out to be a simple story of Lynne Spears' life. She does not linger on the portions of her story that involve fame and fortune—in fact, the majority of the book is about her youth, her extended family, and the years when her children were young and unknown. A reader gets the impression that Spears is trying to clear her name. She has obviously been hurt by the things that have been written about her and assumptions that have been made about her parenting, and she works hard to portray herself as a simple, sweet Southern woman. For this reader, it worked. Lynne seems like a genuinely nice, humble person. She garners your sympathy by spilling her guts about her crumbled marriage and her dying sister, but she warms your heart with stories about happy times and simple pleasures from her past. The book is chock full of colorful Southern-isms, which give some charming credence to her characterization as a rural Louisiana girl.
It's sad though—no matter what Spears does, she can't escape the tabloid machine. Even though this book is her life story, in all its simple and sometimes mundane detail, the publishers still wanted to sensationalize it. The book has pull quotes posted on every few pages, and the publishers never failed to pull something out of context that made the book appear to be more about the fame of her daughters than it really is.
From a feminist perspective, the book doesn't stack up to much. I doubt if Lynne Spears would call herself a feminist, but I think anyone could justly criticize the hyper-sexualization of a teenage Britney Spears, especially her mother. She touches on that topic only briefly, and never really takes it to a feminist place or criticizes it in any depth. However, in other areas, Lynne is very woman-centered. Her core strength comes from her religious faith and the women in her life—her daughters, her sister, her best friends. All of the rocks Lynne has, besides God, are women who she admires and draws strength and inspiration from. Lynne's strong sense of sisterhood is feminist in its own small way.