Toxic Trespass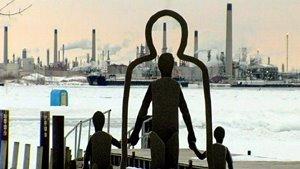 Barri Cohen's filmic crusade for children's health, Toxic Trespass, starts with her 10-year-old daughter, Ada, announcing the results of her "body burden" blood test for chemical substances at a press conference. She says: "I am polluted." The results are dreadful for one so young, yet no one can reassure Ada about the consequences that these poisons will have on her health. From the outset, Toxic Trespass criticizes the government's inability to establish safe levels for chemical levels in blood, especially given the ever-escalating rate of childhood cancers. 
Despite reluctance to identify "toxic clusters"—areas of higher incidence—environmental causes are said to be responsible for ninety-five percent of cancers (as opposed to genetic causes). The geographical focus of the documentary is the larger Great Lakes Basin and in order to draw conclusions, Cohen explores Windsor, Canada, a city located across the river from Detroit. Windsor is known for high levels of airborne toxins because of the numerous heavy metal industries concentrated in one area (foundries, etc.), but Cohen also interviews people who denounce vehicle emissions (Windsor is Canada's busiest border crossing) and other possible contributing factors.
The great strength of the documentary is that children, dissenting scientists, women, and Native American groups are given a voice. Cohen focuses on the Aamjiwnaang First Nation near Sarnia, Ontario, a city to which eighty percent of petrochemical products used in the world can be linked, located across the river from Port Huron, Michigan. The Chippewa Land is surrounded by large chemical multinationals located in "Chemical Valley." Mercury levels in the community's water were found to be 100 times higher than established government thresholds. Here Cohen confirms studies corroborating that pollutants provoke endocrinal disruption and skew the sex ratio in births, inhibiting the production of male embryos in mothers and/or affecting the Y-chromosome in sperm. 
In her investigation of contaminants, Cohen also criticizes the use of pesticides for cosmetic reasons, introducing Jean-Dominic Lévesque-René, a lymphoma survivor from Quebec who has been fighting for recognition of environmental toxins causing childhood illnesses since his diagnosis at the age of ten in 1994. In 2001, he was recognized by the U.N. Environment Programme for his outstanding contributions to the protection of the environment.
Exposing the government's "4D" strategy with regards to public information on environmental problems—deny, delay, divide and discredit—Cohen suggests collusion with industry in keeping information from the public, and especially challenges the general tendency to minimize or deny possible environmental effects of pollution on citizens. She does not hide her bias, recognizes her own responsibility in her daughter's contamination (i.e., bottles, toys), but manages to leave spectators with optimism by showing impassioned citizens fighting to make their communities safer.
People who have seen documentaries on environmental causes of cancer, such as Toxic Bust or Rachel's Daughters: Searching for the Causes of Breast Cancer, will note similarities with these films, even though it does not exclusively deal with breast cancer. Producer Dorothy Goldin-Rosenberg previously examined breast cancer in Exposure: Environmental Links to Breast Cancer. 
Mixing historical footage on chemical production, home videos, interviews, and didactic "toxic facts," this exceptional documentary is of a quality typical of Canada's NFB and, among other prizes, received a Canadian Screenwriting Award by the Writers' Guild of Canada in 2008.