Trail of Crumbs: Hunger, Love, and the Search for Home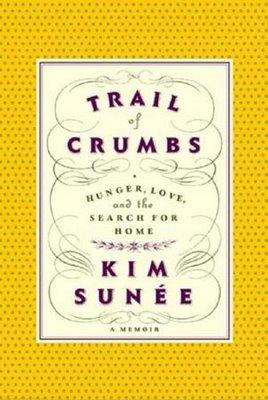 Kim Sunée's Trail of Crumbs is lovely coming of age story about a young woman searching for her identity, love, and place in the world—her home. Sunée writes a beautiful memoir about her passionate love affair, all the while embodying the tastes and sumptuous delicacies of her travels without embellishing her story. While her beginning is a difficult one, her life journey proves to be filled with fulfillment. 
Trail of Crumbs is personal. This is a story that reaches into every reader's mind. Her life path is an unusual one, filled with detours, peaks and valleys. Kim is a Korean orphan. She is adopted by American parents and grows up in New Orleans, a place where she really never quite fits in. She eventually journeys to Sweden and lives in cold weather most of the time until she meets a wealthy Parisian businessman who takes a liking to her. He asks her to live with him in Paris. She lives well, but it is not enough for Kim.
What intrigues me about this memoir is the possible path Kim could have taken in her life. Instead of waiting for a man to come along so they could live happily ever after, she chooses independence of her life, freedom for herself and takes responsibility of whatever consequences may follow. She lives in a Paris apartment, focuses on her writing, and builds a new life, a new reality for herself. 
As if her memoir was not enough, she places one recipe at the end of each chapter to entice the readers to possibly do some cooking. Each delicious recipe corresponds with her many childhood memories. She remembers her past through her recipes—smells, tastes, sights, and sounds. She's a master describing the senses. Sunée writes with elegant prose and charming delight.