Traveling With Pomegranates: A Mother-Daughter Story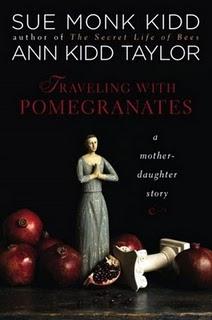 Traveling With Pomegranates tells the two parallel stories of its authors, a mother and daughter. The two women learn about themselves while abroad in Greece and France, as well as in their respective homes in South Carolina.
Ann comes to terms with her disappointment in receiving a rejection letter from the only affordable school offering a Master's degree in Greek history. During the year that follows, she is plagued with depression that follows this blow to her confidence. While traveling with her mother, Ann maps out her path as a writer, even though she had long resisted following in her mothers footsteps. (She didn't want to risk a lifetime of being compared to her mother.) Ann finds out she a unique knack for travel writing, which helps her to preserve her independent spirit.
Sue's discoveries bring forth the ideas, imagery, and symbolism that formed her hugely successful book, The Secret Life of Bees. While Traveling With Pomegranates contains some of the same Southern magic and mystique as The Secret Life of Bees, it hits a little closer to home for the average reader. These women's lives are at once ordinary and extraordinary, but the way they tell their tale of reconnecting with the energizing spirit of Greece is inspiring.
With Greek mythology guiding their tour, Sue and Ann are each profoundly influenced Persephone, Demeter, and various portrayals of Mary they find in various places: a cave, cathedrals, a convent in the mountains, the coast of South Carolina, books, the tiny pomegranate charms they wear. This modern mom-and-daughter travel story tells of the magic of Greece, which the pair find in odd coincidences and signs they encounter. The magic for the reader is in their scintillating descriptions of the country's architecture, taxi drivers, performers, and lovers.
The connection between these two is exceptional. The cohesion of their experiences and concern for each other creates a mutual understanding and emotional response to their trip that all of us an learn from. Traveling With Pomegranates imparts wisdom in its perspectives on accepting rejection, coping with depression, managing life changes after marriage, settling into menopause, and seizing the day.