Truth Be Told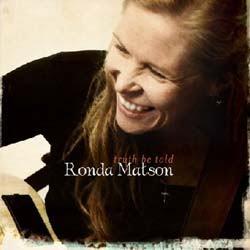 Ronda Matson delivers a solid collection of songs on her second outing, Truth Be Told, and her traditional folk approach, heavy on strumming guitar and harmonica, will please purists. Her plaintive, husky voice sets her apart from other singers, and it's refreshing to listen to a record that doesn't rely primarily on love songs. Instead, Truth Be Told covers a gamut of topics.
"Blind" may be my favorite cut; a jaunty number with rollicking guitar, it is remarkable for its doubled vocals. "The World Turns 'Round" is a gentle tune with minimal instrumentation and a sparse guitar. Matson's vocal delivery is sweeter on this song, as she asks, "Do you remember when I saw you first and you saw me?" "In the Day" is rather catchy as well.
"Lift Me Up" strikes a different tone than the rest of the album.This impassioned plea is sung in a minor key accompanied by almost atonal picking at times. "Lift me up, oh lift me up, waking or dreaming, lift me up," she asks her unknown listener. The ambiguous lyrics make it unclear if her pleading is religious in nature, but the song sticks with you nonetheless. The music of "The Creeper" is perfectly suited to the story of unwanted attention from an unidentified man. The song appears on the album twice, first with Matson as the sole vocalist, and later as a duet with Bruce Marshall. I prefer the duet version, as Marshall's understated vocals add an aura of, well, creepiness.
Ultimately, while I enjoyed several individual songs, I was not blown away by any of them, and the lack of variety was noticeable. Matson is a talented musician who needs to take a few more chances with her material.