Unusual Suspects: Stories of Mystery and Fantasy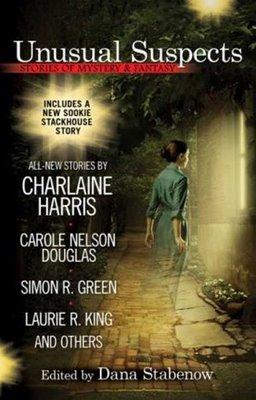 Unusual Suspects is an eclectic assortment of stories ranging from mystery to the supernatural. Editor Dana Stabenow, also a contributing author, and eleven others lend their twelve tales to this compilation. The collection is heavy on the fantasy and even heavier on the entertainment. While each story had a different theme, they all came together to form a cohesive collection.
Within the pages of this book, you are bound to encounter all sorts of characters and situations, some you may already be familiar with. I was excited to read the new Sookie Stackhouse story by Charlaine Harris, as I am familiar with her work with the Southern Vampire Mysteries series. Harris does not disappoint either as we find Sookie and her roommate and friend Amelia investigating Insurance company break-ins. The two characters just may need a little bit of luck to help them out in this mystery...
Another story that I particularly loved was "The House of Seven Spirits" by Sharon Shinn. This isn't your average ghost story with the balls and chains and gore, but one that is lighter and a bit more on the comedic side. The narrator must solve the mystery of the murders that occurred in the house so that all of the spirits can be set free. The story has a surprise ending as well, which I did not see coming. 
With each story, your senses will be immersed into the world of fantasy that each author weaves and creates. You'll find out what Santa Claus does on his vacation and what happens when a serial killer is on the loose in Nightside, a short story from the Nightside series by Simon Green. I truly enjoyed this compilation of contemporary fiction.