The Uterine Health Companion: A Holistic Guide to Lifelong Wellness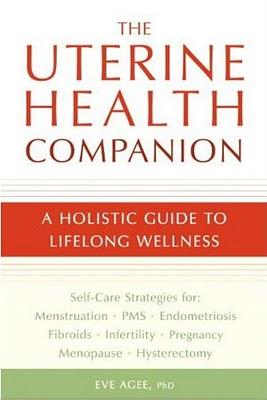 In The Uterine Health Companion, Eve Agee brings her training as a medical anthropologist and as a holistic healer to bear on the subject of life-long uterine health. She begins the book by explaining both holistic health and the structure and function of the uterus to her readers. Then she outlines a plan for optimal uterine health, with chapters on emotional/spiritual and mental health, the power of nutrition and the importance of a strong body.
In part three, Agee discusses what she calls "Uterine Health Conditions" and these span from menarche to menopause and beyond. This is a book for women at every stage of reproductive life. This is also a book for Western women specifically.
Agee's training in Africa has led her to question the disproportionate distribution of uterine maladies from a global perspective. Without ever insinuating that western women have their menstrual woes all in our heads (so common to masculinist approaches to women's reproductive health, as I'm sure most of you are aware), Agee asks why it is that PMS, endometriosis and hot flashes (to name some examples) are so prevalent in the west but comparatively minimal in the non-western world. Agee indicates that dominant western attitudes about women's bodies and women's reproductive systems and abilities have actually contributed to menstrual, reproductive and menopausal illness in the western world. I found that to be the most interesting thing about her book.
I can't say I learned much about the nature of uterine health conditions or about things to do for optimal uterine health, but I'm a reproductive health geek, so I came to the book with a fair amount of knowledge. Still, the reminder to eat my orange and red veggies was a good one and encouragement to keep up on exercise is always appreciated. The part I just couldn't do was the holistic bit: I just couldn't bring myself to do the guided visualizations. Certainly, that had more to do with my own comfort zones. Still, I just wasn't prepared to enter my uterus and talk to the people/things I met there (though it was fun to tell my mother do to so).
Agee's style is engaging and easy without being overly simple. A quick read, enjoyable and timely.