Vegan Rustic Cooking: Through The Seasons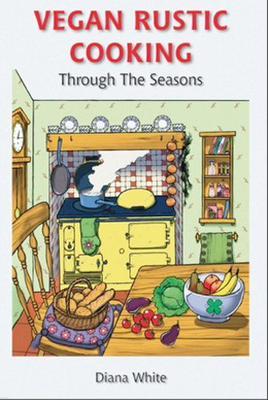 I thought Vegan Rustic Cooking sounded like the grounded, salt-of-the-earth read I needed on my shelf. Lately, I seem to be searching online for recipes as I crave on-demand inspiration. I live in root vegetable country, and I thought this might be just the book for me and my potato-loving self. But despite my own recent familiarity with new uses for celery roots, carrots, beets, and leeks; I wonder if the British cookbook author's localized emphasis on root and sea vegetables didn't rob the book of otherwise inventive recipes.
Quality vegan cookbooks outside of The Post Punk Kitchen empire or from European publishers are tough to find, so I applaud the effort to make a British-centric vegan cookbook. I'm also personally spoiled by fun manuals like How It All Vegan! but simply put, I'm disappointed by Diana White's collection.
There are several problems with this cookbook that immediately stand out; namely, that its plain, dreadfully boring layout offers absolutely no inspiration. As someone who used to think of cooking as more of a chore than the opportunity I now believe it to be, I need for my go-to cookbooks to spice things up—literally. Several of the Vegan Rustic Cooking recipes consist of three ingredients and no actual cooking. While I enjoy the book's selection of sauces, scrambled tofu is not a recipe. It's a stretch to call guacamole one as well. The main courses and desserts fair a bit better, but—pun alert—the fare is still far below my own standards.
The other problem—and this is a criticism of the world at large—is that many vegan ingredients like soy mayonnaise, barley miso, and gram flour are not items most people can run right out and buy—assuming they know where these specialties could be found in their vicinity. Between lack of availability, cost, and hassle, few people will be able or have the desire to experiment with meat and dairy substitutes when presented this way. When you make such strict recipes with no wiggle room or alternative suggestions, people will turn away faster than a vegan rejects a steak. You have to offer replacement options and not assume that everyone can purchase nori flakes. You can't expect people to spend four days making sprouted wheat (reality check: they won't). We should be making this fun and easy for people. I don't mean we need to dumb down animal advocacy or wholesome eating. We need to make it applicable to people's everyday lives.
Perhaps in the UK, the remnants of colonialism make gram flour, for example, an easily accessible ingredient. There is no mention of the reasons for this availability, and while I want to emphasize that vegans must adapt their animal-free diets to their location; this book does not seem easily transferable outside of its intended region. I live on the same continent and in the same basic climate, and I wondered how I would ever make many of these dishes—assuming that I ever aspired to do so.
As I read through the cookbook, I felt like I was being lectured. While the best parts could easily be tutorials and ideas about how to steam vegetables and utilize local, seasonal produce, I was insulted that someone was instructing me to eat green leafy vegetables daily. Not only do I know that I should be doing this; I resented the classist implication that all people can find and afford such a luxury—and sadly, that is exactly what it is to consume fresh kale, pears, and flaked almonds on a regular basis. For dedicated vegans, this cookbook may supplement other sources of creative recipes, but I have little faith that few people will find new, invigorating ideas here.