Viona Echo 15 Laptop Case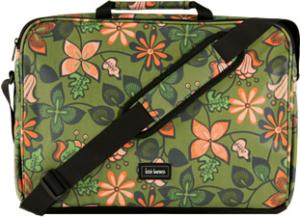 I live in New York City, where fashion and muggings reign. So what's a girl to do if she wants to keep her laptop safe and fit in with the fashion elite? Lexie Barnes knows. You wanna know why? Because she's from Chicago, a town with these same two afflictions. Her solution? Make products that look a little too cute to hold anything of value. That way would-be thieves are fooled into thinking that the flowery bag you're carrying holds only femme-y items, like lipstick and tissues, and won't bother you. You may, however, be mobbed by hipster girls, who just have to know where you got your fabulous bag. There's always a trade-off for style.
Now that you know you can fight crime with the Echo 15, let me tell you a little about it. Lexie Barnes laptop cases come in three Mac or PC compatible sizes - 13", 15" and 17" - and three retro-chic designs: Baja, Bali Hai and Viona (pictured above). There are two zippered compartments and one open pocket. It's made out of a durable, slightly padded, water-resistant material to protect your electronic goodies, and you can carry the bag by its handles or wear it using the shoulder strap. The Echo 15 is a practical yet aesthetically interesting alternative to traditional laptop cases. Lexie Barnes combines her personal, artistic history with entrepreneurial skill, something more women should have the opportunity to do. Even if you're not in the market for a laptop bag, stop by her website for a little inspiration.