Words and Money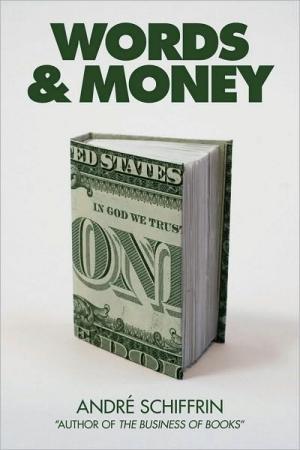 The creative culture industries have always been, and will continue to be, an important arena of concern for feminist politics. This is not only because feminism has had to rigorously contest the regressive versions of femininity mass produced by these industries for mainstream audiences but also because feminism has challenged these perceptions by generating alternative media, literature, and film.
In this sense, André Schiffrin's latest book, Words and Money, is an informative read for those employed in the culture industries who subscribe to feminist ideologies. Schiffrin's primary concern is how the corporatisation of publishing, films and cinema houses, independent bookstores, and the press is destroying smaller, independent agents of cultural production, and, with them, the culturally and intellectually diverse material they bring into the public domain. Picking up where he left off with The Business of Books, which examines the corporatisation of the publishing industry, Words and Money sketches out the disastrous effects of the pursuit of profit within the creative industries, and makes a passionate and compelling case for their need to receive adequate support in order to continue producing the important analyses, literature, and film with which they enrich the public domain. What's more, Schiffrin has suggestions for how this can be done, making Words and Money an essential 'how-to' manual for industry insiders who want to save the independent creative sectors.
Words and Money covers four different sectors—publishing, cinema, bookstores, and the press—but the message it delivers in each case is the same. For example, Schiffrin recounts how publishing, a profession that was once free of the pressures of profit-making, is being transformed by the demands of global conglomerates to promote what sells, rather than what makes important historical or cultural contributions available to the reading public. He cites how French publisher Les Prairies Ordinaires was given a small government grant to translate a number of academic works by authors such as feminist cultural and literary theorist Judith Butler into French. He points out, however, that such small publishers cannot outlive these grants because systematic financial support is withheld due to the perceived lack of demand or profitability of their books, irrespective of the social value of their content.
So, what is to be done? University presses could house and subsidise small independent publishers. A small local sales tax on cinema tickets could be used to support an independent cinema house. Local libraries could give independent bookstores the space to open their own sales counters. These are samplings of what is perhaps the most useful contribution of Schiffrin's work—his practical suggestions about how to save the independent creative industries, instead of simply bemoaning their demise.
As the publisher of Pantheon Books for thirty years, Schiffrin's intimate knowledge of the industries he interrogates makes for a fact-packed read that is probably more appealing to industry insiders than the average reader who, like me, may be more interested in the politics without the macro-economics. By expanding on the few interesting cross-regional examples like Butler, Words and Money could have better driven home the great intellectual and cultural loss that the disappearance of the independent publishing industry or the independent press actually signifies.
Interestingly, Schiffrin is credited with bringing French writer and intellectual Michel Foucault's work to America. Foucault's contribution to the analyses of relations of power, the body, and sexuality are widely considered gargantuan contributions to feminist theory and have generated volumes of lively debate within feminist scholarship and academia. To me, a Foucault-less world presents a far more compelling, if chilling, example of what everyone stands to lose without the gems of the independent publishing industry.