Worried Sick: A Prescription for Health in an Overtreated America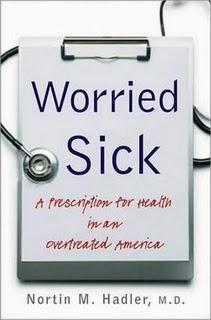 It is refreshing to see find a doctor who is willing to question the establishment. In Worried Sick, Dr. Norman Hadler begins with the observation that the national health-care plans of "advanced" countries (other than the United States) cost a quarter of what Americans spend on health insurance, their survival rates are higher, and their citizens have more years of a better quality life. Rather than focusing on extending life, he believes, we should focus on maximizing the possibility for high-quality life, with eighty-five years old being the aim for a ripe old age. Hadler believes life circumstances are often the reason people cannot cope with their medical issues and recommends making changes in work, family life, and self-care rather than turning immediately to medication or surgery.
Hadler takes readers through many common illnesses: heart disease, cholesterol, colon problems, bone fractures, and neuromuscular disorders. For each, he highlights the treatments commonly prescribed in America, many of which he considers ineffective, a waste of money, and perhaps a risk to one's health. He reminds readers that certain aches and pains, a reduction in bone density, and other minor ailments are natural elements of aging. He tries to turn the dialogue away from "What is wrong with me?" and toward "Why am I unable to cope with this episode?"
The last two chapters are the strongest part of the book. Hadler lays out an intriguing proposal for a health-care plan in the United States. He suggests it be an employer-based plan, and even provides the possibility of a state-based plan, but he does not explain why it shouldn't be national. In his plan, employers would contribute twelve percent of a worker's annual wage. One percent would go towards administrative costs, one percent toward profit, and the rest toward an indemnity plan. There would be a conflict of interest policy, and no one working for the plan would earn more than five times the plan's average employee wage.
Worried Sick is a book worth keeping on the shelf to double check the risks and benefits of a doctor's suggested treatment. The ideas in the book deserve a larger audience, and I hope Hadler will collaborate with a professional for his next book because the clumsy writing style and complicated phrasings results in important ideas being lost within the text and can dissuade the reader from continuing on. The proposed health plan also deserves discussion, but would generate more interest if presented in a more accessible form. Hopefully, the author's next book will accomplish that.