You Live for the Fight When That's All That You've Got #1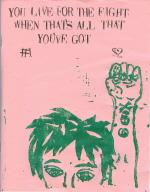 This zine is the latest from the woman who brought the world five issues of A Renegade's Handbook to Love & Sabotage. After her dad's unexpected death in 2002, she took a break from producing zines because "the words just didn't come out in a way that felt right" to her. With You Live for the Fight…, she is "trying to let the words come out in a way that feels right to them."
I'm really excited by the way the words came out. It's been a long time since I've liked a zine as much as I like this one, and I highly recommend it to anyone even marginally interested in perzines.
I appreciate Ciara's candid and honest writing on topics ranging from her dad's death to her own depression and suicidal thoughts. Despite the serious subject matter, this zine is not a downer, since Ciara utilizes humor and wit when describing her life. She has a gift for telling entertaining and enlightening tales, as well as for sharing illuminating details from her adventures away from home. Best of all, her narratives always come across as sincere and genuine. From the linoleum print self-portrait on the cover of the zine to its eight pages of reviews of books and other zines, Ciara's personality and individuality shine throughout this project.
Like the best zines I've ever encountered, this is one I want to hold on to so I can read it again and again. Even when I memorize what every one of its stories is all about, I'll still take pleasure in how those stories are told.