Zodiac Girls: Discount Diva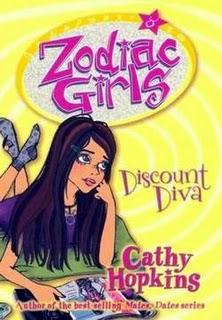 Discount Diva is a fun book for pre-teens eager to read as a hobby. The main character in the book, Tori, who is a Tarus, comes from a poor family and longs to have the finer things in life. When Tori finds out she is a Zodiac Girl, she thinks her days of wearing secondhand clothing is over, but is it? In the age of technology, I know I find myself reading my horoscope to find out what my day, month, and year will be like. But it's not that easy. In _Discount Diva _it's up to each girl to listen to the stars and turn her dilemma into a moment to shine.
Best selling author Cathy Hopkins does a wonderful job at writing for young adults. Before becoming a writer she worked as an aroma therapist and was a singer in a rock band. This book is a great read for any pre-teen girl who has an active imagination.