Enterprising Women in Urban Zimbabwe: Gender, Microbusiness, and Globalization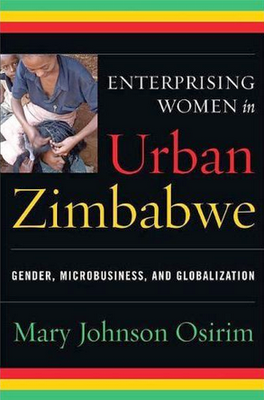 In the early 1990s, Mary Osirim took a team of interviewers to several urban areas in Zimbabwe to learn about the lives and financial status of women working in the "microenterprise sector." She found that while women were largely excluded from education and much of the Zimbabwean economy, some had found a niche as crocheters, seamstresses, hairdressers, and "market traders" in fruits and vegetables and other goods.
There is plenty of sociological theory—the author is, after all, an eminent sociologist—much of it concerning the damage wrought by globalization generally and more specifically by the International Monetary Fund, the World Bank, and the Economic Structural Adjustment Program of 1991, which seem here to overshadow colonialism and even patriarchy as root causes of poverty and oppression. And there are a lot of statistics: "Seventy-nine percent of the traders reported that they made all decisions about the use of profits from their enterprises"—which are suggestive, if taken from small sample sizes.
The essence of Enterprising Women in Urban Zimbabwe is in the voices of the women themselves. These women are trying to survive in jobs that have them vending in outdoors stalls in all weather and economic vagaries—many of them providing for families and extended families. The interviewers ask questions like "Why did you start this business?" and "Who makes the decisions in your family?" and "Does your husband assist with domestic duties?" The answers, although too often painfully synoptic, provide a mixed picture of these women's experiences. Many of them are living on dreams deferred, still hoping that a career as nurse or air hostess is not entirely out of reach.
One crocheter reports, "I'm happy because [my husband] does not hit me. I live nicely. He gives me money." One of the recurrent themes embedded here is the struggle for autonomy as made manifest in the women's earnings: "Husband makes decisions about money and bills." In some of the accounts, one can hear echoes of the novels of Buchi Emecheta, although her work captures a different time and place.
Time and place present a problem in this study. First, the interviews are fifteen years old, and so are most of the bibliographic references. In the Zimbabwe of the early 1990s, many apparently held out hope that Robert Mugabe would acknowledge the role women played in gaining Zimbabwean independence by creating meaningful reforms allowing women greater access to education and the workplace. Locating the study specifically in Zimbabwe is also somewhat problematic in that the workers are "cross-border traders" coming from, traveling to, and trading with nations throughout the region. In the strictest sense, their lives and experiences are not exclusively Zimbabwean.
Still, Enterprising Women in Urban Zimbabwe is a valuable report on the status of a worldwide phenomenon; the term "enterprising women" is more a generic label than a specific title: the transformative possibility of women's entrepreneurial work throughout the world. At least in terms of this report, the experience of women in "microbusiness" has mitigated poverty for some, brought some measure of financial independence for some, and has changed the lives of a few. Overall, though, it does not, at least in Zimbabwe, seem to have had large-scale transforming effects in either the status of women or in the patriarchal traditions or the laws that still oppress them.