Female Nomad and Friends: Tales of Breaking Free and Breaking Bread Around the World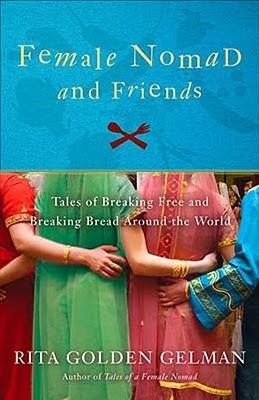 I love reading essay collections. For a voracious reader without much free time, the ability to pick up a book, read a few self-contained pages that pack a punch, and go on to the next task is so rewarding. And unlike reading blog posts, I don't feel the need to comment or otherwise let the author know that I was there.
Female Nomad and Friends is an absolute treat for women who love to travel and connect with new people. Even for those who simply dream about it, but don't have the means or the fearlessness to travel to exotic places, this book offers funny stories, unbelievable adventures, and... recipes.
Rita Golden Gelman received such tremendous feedback from her book of travel stories, Tales of a Female Nomad, that she decided to collect some of her favorite fan responses and publish them. Another friend suggested she add recipes and, voila, the book was born.
The essays are organized into different themes: Connecting, Language, Food, Passion, etc. and give the reader a colorful array of experiences that span the globe. The women who contributed stories to the book had predictably unpredictable mishaps, some titillating moments, a few frightening culinary experiences, and ultimately learned some universal truths about people and themselves along the way. In the past few decades, the world has gotten smaller and it is easy to take for granted how easily we can glean facts about life halfway across the world. Thanks to this book, we are reminded that there is just no substitute for face-to-face contact. Reading about personal interactions between people who don't share languages or cultural norms but who nonetheless show kindness and respect for each other is both heartwarming and hilarious.
I must admit I've dog-eared a few recipes to go back and try once I get some free time in the kitchen. There is just something special about re-creating something you first experienced abroad, especially if it is a time honored tradition in someone else's kitchen. Many of my favorite discussions have occurred in the kitchen, hanging out with a group of women, working away, everyone doing their part to create something magical and special for their families and friends. The travel stories and recipes go hand-in-hand as they create a wonderful tapestry of travel images for the reader.