Moonlit Necklace & Flying Home Ring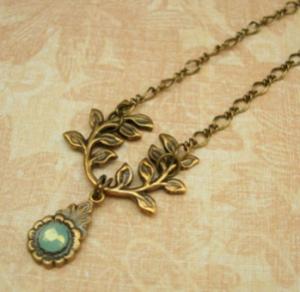 Having made its premiere in the northern Italian city of Turin in 1896, La bohème is now the second most frequently performed opera in the United States—so says Wikipedia. Ordinarily, the near-winner might be a little miffed at the first place slot being granted to another, but Tuscan composer Giacomo Puccini loses to no one other than himself. The foremost operatic popularity goes to another of Puccini's masterworks: Madame Butterfly.
Using a visually aesthetic motif similar to that of the aural designs of Puccini, Bohème Jewelry crafts unique pieces that are at once forward-thinking and vintage. Sheryl Pang's handcrafted designs are thoughtful and complex, yet not overly so as to render them inaccessible to the average wearer. They have an air of nineteenth century Parisian cosmopolitanism with a smidgen of Gothic art.
Imagine yourself as a ragtag artist in the French capital under Russian occupation and during the period of Restoration. Your city is on the cusp of a wave of industrialization that will lead to a great number of transformations. With technology, trade, and tourism at your doorstep, the opera houses become a refuge for creativity.
The Moonlit Necklace and Flying Home Ring are anachronistic pieces of jewelry that hearken to the tragically romantic allure to which Puccini's compositions have given voice. Nestled in the center of an oxidized brass fern is a Swarovski crystal the color of sky. The pendant hangs from a sixteen-inch chain that matches the brass of the flora. Painted with a verdigris patina, the brass ring is twisted into a delicate pattern that features a swallow holding two pink-toned Swarovski pearls and a baby blue Czech glass bead in its beak. Both pieces have a feminine sensibility that is delightfully contrasted with the sturdiness of the design.
A chain smoker of both cigarettes and cigars (a staple of the European artistic elite), Giacomo Puccini died of throat cancer just a month prior to his sixty-sixth birthday. As the story goes, a New York orchestra played Chopin's Funeral March the moment news of Puccini's death reached the city, which was, ironically, in the midst of a performance of La bohème.