New York Times 'Half The Sky' Issue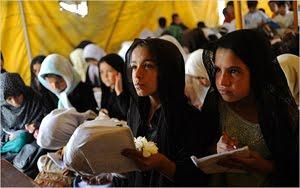 In July, I wrote a post about Nicholas D. Kristof's announcing a "special issue" of the New York Times Sunday Magazine that would cover women in the developing world. Well, that issue is now available online, and will be arriving to the doorsteps of NYT subscribers in a few days. While this issue would have felt more authentic had the Times solicited pieces written by women from the Majority World, there is still much to be gleaned from this weekend's glossy.
As I anticipated it would be, the artwork is fantastic. In "A Powerful Truth," a five-minute audio slideshow, Kristof briefly tells the stories of six women--Saima Muhammad, Goretti Nyabenda, Claudine Mukakarisa, Edna Adan, and Abbas Be--while Katy Grannan's photos supplement the words by geographically gliding one homeland to the next: Pakistan, Burundi, Rwanda, Somaliland, and India. Saima's and Abbas' stories are further detailed in "The Women's Crusade," which explores the myriad challenges women face around the globe; examines the positive role microfinance, foreign aid, US policy, and NGOs play on bettering women's individual conditions; and positions women's collective empowerment squarely at the center of solving global ills--including human rights violations, poverty, war, heath crises, and modern day slavery.
Another feature piece is "A New Gender Agenda," in which Mark Landler interviews Hillary Clinton on which foreign policy issues will be prioritized in the Obama administration. While some of the questions Landler asks are bold, and he should be applauded for having asked them, Clinton consistently sidesteps, leaving much to be desired. "A School Bus for Shamsia"is a feel-good piece with many moments that don't feel so great. At its core, it's about the progress of girls' education in Afghanistan, and one journalist's accidental transformation into an activist. Despite acid attacks and other forms of intimidation, the girls who attend Mirwais Mena School in Kandahar are determined to complete their studies--even if it results in their death.
On the topic of girls' death, "The Daughter Deficit" outlines the cultural factors behind daughter deaths and sex-selective abortions in India and China--an ironical twist to how increasing development can backfire if not coupled with an increase in women's status. Some of you may remember Ellen Johnson Sirleaf from her appearance on The Daily Show a few months ago. In "Madame President", Deborah Solomon speaks to the only female head of state in Africa in what, ultimately and unfortunately, is a lackluster interview.
"The Feminist Hawks" is one of the more interesting articles here, as it deconstructs the use of feminist rhetoric ("women's empowerment") as it is applied by conservative "hawks" (or those who gun for military intervention), particularly with respect to the post-9/11 paternalistic focus on Muslim women's rights (a la "to hijab or not hijab"). Writer Virginia Heffernan further complicates this discussion by considering the effect the Internet has on disseminating and manipulating the message.
In addition to the content, this issue has two "Half the Sky" contests for artists and activists: 1) photographers can submit pictures that exemplify the theme of women and girls' empowerment and 2) those with personal stories regarding work done to empower women and girls (in the US and abroad) can post a comment on the contest's page. Winners chosen will receive a signed copy of Kristof and Sheryl WuDunn's newly published book called, as you might have guessed, Half the Sky.
Perhaps the most important parts of this issue are the "Do-It-Yourself Foreign Aid" and "Organizations Supporting Women in Developing Countries" pieces, accompanied by Lisa Belkin's explanation of gendered giving in "The Power of the Purse." Audre Lorde wrote, "The essence of a truly global feminism is the recognition of connection." The struggles of women around the globe are the struggles of women everywhere; as women in the Western world and women of means in the Global South, we must find a way to wield the privilege we possess in order to dismantle systems of oppression which keep other women's needs from being met. Problems are not monolithic, and neither are solutions. The only thing that is not an option is failing to act.
Cross-posted to Bitch Magazine's On the Map blog
Tags:
Afghanistan
,
Africa
,
education
,
empowerment
,
global feminism
,
India
,
international policy
,
magazine
,
media
,
microfinance
,
muslim women
,
Pakistan
,
photographs
,
politics