Seven Minutes in Heaven: Coming Out!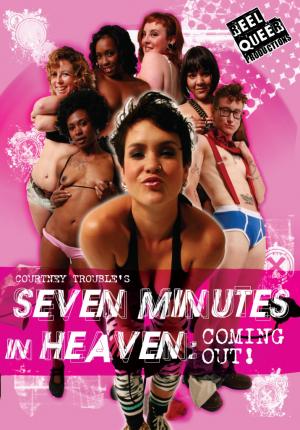 Courtney Trouble, the creator of Seven Minutes in Heaven: Coming Out!, is one of the hottest new directors of queer porn. After creating No Fauxxx in March 2002—a website with 150 models, twenty videos, and a free social networking community—Trouble started making full-length queer porn videos. She has also been in a few porn films herself, which she says adds to her respect for those in front of the camera. To date, she has ten feature films available.
Seven Minutes in Heaven is the first film of a three-part series of "reality porn," unscripted amateur porn where the participants get to choose partners, sex toys, and chat about their experiences. It is set up like a wild slumber party night, with scenes being fueled by those timeless junior high games, spin the bottle and truth or dare, though these versions definitely end up in a lot less awkward and a lot sexier scenarios then making out sloppily in a closet! The truth or dare sequence leads to some brief food play and some of the hottest group sex scenes in the film. Seven Minutes in Heaven was nominated, like many of Trouble's films, for the 2010 Feminist Porn Awards.
I liked the parts where participants talked about their experiences or discussed certain issues, like sucking cock and having it be your first time in a porn, although at times the conversations dragged on a little long and were a bit too reminiscent of the familiar reality television confessionals, leaving a viewer feeling like they want the action to get going already! A lot of new queer porn films, including this one, have real musicians add to the soundtrack, which I think is a cool idea in theory. Seven Minutes in Heaven included Purple Rhinestone Eagle, Jenna Riot, DJ European DJ, and Diamond Beats. However, when it comes down to it, I don't generally feel like there truly is good porn music. The way I see it, if you barely notice it, that's probably the best. This soundtrack, at times, sounded pretty riot grrrlish, though that might be a turn-on for some!
The inclusion of S&M and kink was prevalent throughout, though pretty mild with some role play, flogging, gagging, fisting, and a few moments of knife play. There was definitely a lot of use of sex toys, mainly vibrators; a crop; and a good amount of dildo use for some steamy fucking and lessons on sucking. Many times there were multiple scenes going on at the same time, though you could only hear or get a glimpse of the indirect scenes, which definitely spiced things up.
Though the cast wasn't super diverse, it is always refreshing when there is a variety of real-sized bodies. Also of note was the use of safer sex; gloves and condoms were utilized throughout. Since there is generally not a lot of sex education oriented towards queers, I was glad to see a film where it encourages the notion that safe sex can be both easy to do and not make sex play any less erotic.
Seven Minutes in Heaven: Coming Out! has a lot to offer, and scenes get better and better as the film progresses and the participants get more comfortable with each other. Watching this film certainly made me very curious to explore Courtney Trouble's other films. If they are as appealing as this one, I would say she deserves all the credit she has coming her way.